Macadamia Nut Oil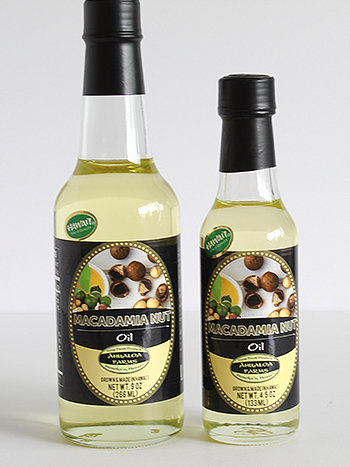 Ahualoa Farms Macadamia Nut Oil. Our farm fresh macadamia nut oil is a heart healthy oil with a mild buttery flavor. Our Macadamia Nut Oil is cold pressed by us in our Honokaa kitchen. Macadamia Nut Oil is a "Heart Healthy Oil" and includes the following benefits:

No Trans Fats
80% monounsaturated - high in oleic acid
No cholesterol
No Carbohydrates
Equal amount of omega 3 and omega 6 fats
High smoke point
No need for refrigeration

Some of the uses for Macadamia Nut Oil are tossing pasta, making salad dressing, making mayonnaise, stir frying or sauteing or used in baking. Choose from 4.5oz and 9oz bottles.
---